Enjoy a night by the fire.
One of my most favorite activities at Travelers Country Club on the Mississippi involves my family and me sitting around our fire ring enjoying a good campfire.
As the sun goes down, from across the fairway, here and there, you can see the flickering of campfires and hear the sounds of laughter and conversation. Occasionally the crackling campfires shoot up a shower of sparks as more wood is thrown on them.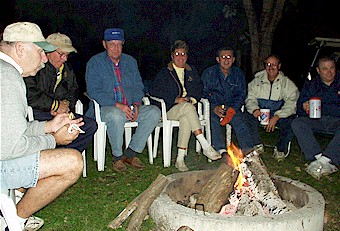 When the weather cooperates, we'll do supper outside. Grandpa cooks hotdogs or burgers over the burning coals while Grandma gets the picnic table ready. Soon the table is stocked with an assortment of beans, chips, corn on the cob, potato salad and ice-cold watermelon. After supper, if we feel like it, we'll make S'mores or even campers' pies. Then it's time for Dad to get out his guitar and lead us in singing "You Are My Sunshine." Often friends in the Park will drift over to our lot to join in the singing or to stare at the fire while sipping cocoa.
Later in the evening, as the logs slowly burn down and turn into glowing embers, we will talk about the news and things that are happening in our lives. Maybe we'll tell some stories or jokes or just look up at the star-filled sky. Occasionally, amidst the oak trees lining our lot, we'll see the blinking movement of fireflies, see a shooting star or hear the buzzing of June bugs as they hit against the screen door to our Minnesota room. Too soon the hooting of an owl or distant whistle of a passing training tells us that it is time to turn in.